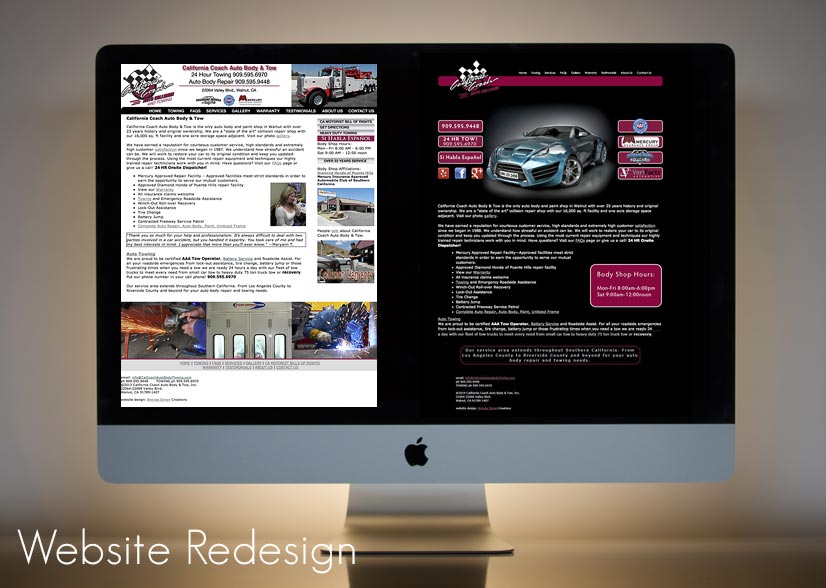 Is it time for a
website redesign?
You control your company's image through your website and it is a potential customer's first impression. You want it to reflect your current business. If your website is
more than 3 years old consider a redesign.
You must include a
mobile
strategy.
Not all websites age well.
Technology continues to change which allow design trends to change. Monitors are much wider than the early CRT monitors. Browsers have dramatically changed and some aspects of your website may display differently than when created. Together these offer
visually fresh changes and more functionality choices
for interactive website features.
Revamping your website
doesn't mean changing every piece of your website. Your logo and branding need to remain prominent. Typically redesigning from the ground up is simpler than trying to rework outdated code. If your content hasn't changed much (auto repair industry) refreshing the design elements will make a much more appealing website, while at the same time reorganizing your content.
Reasons to Redesign Your Website
Visually—improve the look, feel and functionality
Navigation—don't risk frustrating a visitor with clunky or poor navigation
Content—update to reflect your current business products/services, remove outdated or conflicting information
Photos—visitors recognize outdated photography versus striking quality of today's images
Interactive—consider slide shows, sliders for ways to display product images
Flash—it is now passé and does not display on iPads and iPhone
Social Media—it's a contact medium you can't afford to ignore
Mobile Presence—there are 2 ways to create a mobile presence.
Before beginning
your website redesign ask your designer about
Responsive vs Separate Mobile website
. When choosing Responsive it's cost effective to
redesign your desktop and mobile sites
in tandem. For many business owners a separate mobile website is the optimum solution.
Google is aware of every change yo make to your website—the more often—the better. Commit to adding content to your website regularly. Engage with your clients.
Contact us
for a free review of your website.
"Thanks for your good service." —Paul, Underground Sales, Ontario, CA
Redesigning websites
in Diamond Bar, Chino, Upland,
Fullerton, Anaheim
and beyond.