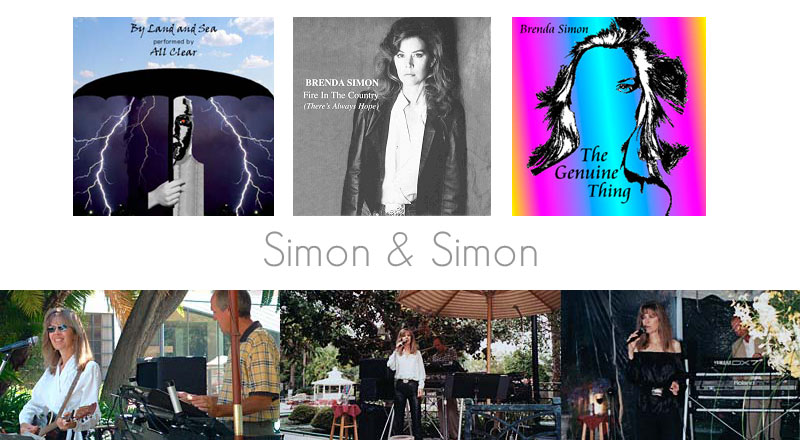 Brenda and Doug performed as Simon & Simon in the greater Los Angeles Area—in all four counties: 
Los Angeles, Orange County, San Bernardino and Riverside County.

ORIGINAL MUSIC CDs
"Fire In The Country (There's Always Hope)" was released in 1997. It is a combination of adult-contemporary and country/pop/rock.
"The Genuine Thing" was released in 2000. This CD takes a departure from her first with its soothing contemporary songs.

"By Land and Sea" is Doug's first solo CD with eight original songs under the pseudonym, "All Clear". He plays all the instruments and wrote seven original songs, co-writing "Precious Love" with Brenda Simon.




Below is a partial list of hotels, country clubs and other performance venues.

Long Beach Airport Marriott—Long Beach, CA
Rodrigo's—Corona, CA
Rodrigo's—Temecula, CA
San Gabriel Country Club—San Gabriel, CA
South Hills Country Club—Covina, Ca
Old Ranch Country Club—Seal Beach, CA
Virginia Country Club—Long Beach, CA
Eric's @ Palm Garden Hotel—Thousand Oaks, CA
Cabrillo Yacht Club—San Pedro,CA
La Canada Country Club—La Canada/Flintridge, CA
Shady Canyon Golf Club—Irvine, CA
Rolling Hills Country Club—Rolling Hills, CA
Yorba Linda Country Club—Yorba Linda, CA
Monrovia Doubletree—Monrovia, CA
Island Hotel—Newport Beach, CA
Annandale Country Club—Pasadena, CA
Eagle Glen Golf Club—Corona, CA
Mission Viejo Country Club—Mission Viejo, CA
Riverside Marriott—Riverside, CA
Capistrano's—El Segundo, CA
Laguna Cliffs Marriott—Dana Point, CA
Sheraton Cerritos Hotel—Cerritos, CA
Mesa Verde Country Club—Mesa Verde, CA
Trilogy Golf Club @ Glen Ivy—Corona, CA
Manhattan Country Club—Manhattan Beach, CA